For course reports click here: http://www.energyenhancement.org/page17.htm
" The energy techniques given in Energy Enhancement have never been explained to me in Aikido (even Ki Aikido), Yoga or Ashtanga Yoga or on any meditation course that I have been on like Transcendental Meditation, and have only been partly taught to me previously by Taoist master Mantak Chia and on Tantra Courses…. " Phillip Chester (GB) Change manager working directly to the Managing Directors of several fortune 500 companies
" Thank you so much Devi Dhyani and Satchidanand for being a channel of these Energy Enhancement Techniques in which many people can receive tremendous help, protection and Inspiration. …. " Dr Susana Macri (US, New York) Medical Doctor ( Summoned by Satya Sai Baba just before 9/11 to leave New York)

"I'm in Shanghai now. I'm back for a month to see my love – everything is going great – very happy. I'm going to Spain in the first week of January. My Love plans to come over late January or early February, after I have made a nice soft landing for her. I've got her into meditation and she's LOVING it. She is about to build her antahkarana…. " James Ellerbeck Writer for Yoga Magazine UK

"If you want to live your life connected to the universal life source and expand your soul consciousness, you must take their Energy Enhancement Training. It will truly change your life. You will be truly filled with the power of God. … " Dr Thomas Fluellen (US) Dr of Atomic physics

" For instance, since I've been working on "cleaning my base chakra" everything around me seems to be going through a massive cleansing process – Only 2 days after I returned to Canada from India, a chain reaction of events led my to change my 5 employees, change some of my major accounts and delay a move to the United States. 10 weeks after the program, things are stabilizing…" Pierre Morency (Canada) Ex KcKinsey Executive, President of Morency Marketing Ltd (Marketing Physicist)

"I feel so happy to meet Satchy and Devi, they are high spiritual teachers that can see deeply inside you, behind the mask that everybody has. They can see your soul, your real self!! If you need help you 'll get it from them … " Danisa de Paul (Spain) Dance Instructor/Yoga and meditation teacher

"I feel so happy to meet Satchy and Devi, they are high spiritual teachers that can see deeply inside you, behind the mask that everybody has. They can see your soul, your real self!! If you need help you 'll get it from them … " Thomas Kline (US) Martial Arts Student

I am working a lot on my meditation and i am doing incredible healing on my present life, in different little girls, and teenager. At the same time with consciousness, i believe that i am also healing past life. You would be proud of me i have been a very good girl. So good work, that i can see the changes already…and feel amazed by them!! Wahe Guru! L. (France) Dancer/Yoga and Meditation Teacher

"Energy Enhancement does not promote a spirituality that grows only in the mountains, apart from the cities and the hustle and bustle of everyday life. It shows you how to integrate the peace of retreat with the activity of life – work, relationships, enjoyment, and spirituality – there should be no separation.." Paul (UK) Student and Poet

"She felt goose pimples all over her skin. The energy was coursing and rushing through her body in very strong waves for at least 30 minutes and when it was time for lunch she did not want to come out of it, she was laying on her back and couldn´t stop laughing of happiness! " Lisabeta

"I was aware of a fair bit of energy in the car on the way to the airport, and on the plane – what were you up to?! I suppose I'm supposed to believe that you were busy "healing" me!!!! <wink!> That is the way it felt all right, so, if so, thank you very much! I felt very happy on the plane, and not in a selfish way at all, I felt like I was sparkling! <LAUGHS!> I hope yer getting the "tone" / humour of this email, I'm making fun of myself! take care! thanks for everything." Graham Kutner Simon (UK) Student
"I was not sure if this was wise, as I knew nothing other than what I had read on the web site and the testimonials, which I was a bit skeptical about! However, I am now adding my own because if you read this you might be a bit like me.. Don't hesitate – go for it!. " read more  MS (Ireland)
Human Resources Director, Europe/Asia, of a Fortune 500 US Multinational Company
"Kind of difficult to summarise but I find it to be a pretty effective method of self-analysis combined with a strategy for dealing with whatever 'shows up' as a result of all the digging…………from a personal viewpoint it allowed me to work on two areas which although I was aware of, I didn't really have much of a clue as to how to deal with ………….one of the blockages in particular was kinda heavy (see gay men and their mothers volume 1 chapter 23)…" Alan Dolan (Ireland) Communications Person , Well known aerospace company, Riyadh, The Magic Kingdom of Saudi Arabia.
"He is a changed man and an inspiration. He is also a great example of the effectiveness of the Energy Enhancement course and i hope now, more than ever, to be able to come and do it some time soon. Next September maybe…. " Lawrence (London, UK) Student of Art
"Satchi and Devi opened their hearts to me and took me as one of their family. Hearts only speak to Hearts, they said, And you have a good heart!! A good student is always grateful they said, not only for teaching me these wonderful Techniques of Energy Enhancement but also they taught me how to eat properly and how to avoid the poisonous traps of pesticides set for the unwary by the modern genetic genocide mindset…" Carla (Argentina) Corporeal Expression Student
" When I came to see Satchi at the airport for the first time I was struck by his energy but it was the second time, when he was talking to another student when meeting us off the train at Figueres that I really started to feel the Buddhafield of Energy Surrounding him. Suddenly I started yawning like the big healer guy in "The Green Mile" and then tears started from my eyes and I felt I was getting rid of a lot of Painful memories from the past…" Olympia Panza (Argentina)
" Through patient and unselfish love they gave me ten unforgettable days that has changed my life, my way of seeing, thinking, breathing, living! Thanks Satchi & Devi for teaching me how to fly – you will always be my Jonathan Livingston Seagull… " Anna Andersen (London, UK) Student
" I broke through and contacted the God energy. Well what an energy flow took place then! It felt unlike any of the other flows and my negative energy starting clearing good style. I was shaking, crying and then finally laughing. This lasted for a few minutes and then finally subsided…" Peter (UK) Electrical Engineer
" My gut instinct told me that you were both good people and that you would help me with my goals. Here is my advice to anyone who is unsure if it is wise to fly half way around the world to join you: DO IT! " … Arwen Evenstar (US) Dancer/Artist/Actor and manager of summer camp
Here is Paul – University Graduate in English and Poetry on his Energy Enhancement course.

"But seriously, it is great. What more can I say? I don't want to oversell it, so I'll simply say that in the end it'll make you feel better, you'll meet two wonderful people and have a great time. My spirits have been lifted and my mind expanded since I've been here, and I have a strong feeling inside that life will simply go on getting better and better for me and for everyone I know"
"After 5 weeks of developing my practice the method I now use for grounding negative energy is quick, efficient, and experientially extremely rich – I don't think it will ever get boring because the focus of each meditation, now I've reached the 3rd Level, is totally unique.
What I love about the way I meditate now, with the Energy Enhancement training, is that it's so much more structured and focused – a clear intent is set out at the beginning of the meditation and by the end, it's done! The techniques are so powerful, and I can feel the energy change as I ground the negativity from the focus of meditation. When clearing relationships I can feel atmospheres of untainted, pure energy enter me, like a huge, expansive, windswept sky. I really feel lighter!
The visualization of the energy is a wonderful indicator of progress – everything in life has markers of progress through stages and cycles: seasons pass, fruit ripens, skin ages, rivers flow, wars begin and end. With other meditative techniques the markers of progress are general, such as a sense of well being, and specifically within that moment. In Vipassana meditation, sometimes you get a flow, sometimes not. In Mindfulness of Breathing and Metta Bhavana meditation, sometimes you engage, sometimes not. It is difficult to gauge where you are on the path, and therefore what challenges you now face.
The Energy Enhancement teachings set out such a clear structure towards spiritual progress, with each stage having to be focused on and cleared before the next can be attempted, that I have a much clearer idea of where I am and the tasks that must be accomplished before I can move on.
Along with all the indicators of the other techniques, such as bodily sensations, senses of well being and general demeanor and mood, Energy Enhancement traces particular problems to particular energetic blockages so that you can locate and solve them in a focused way. Along with that it allows you to see where you are in the evolutionary stream, and as you move through the stages you gain more energy to do more work, not only in meditation but also in life, so you remain in touch with what you must do at every stage. Now I can efficiently focus my meditation on the areas I need to work on in order to free up more energy so I can work on harder areas… and so on. It's much quicker, and very thorough, because of that focus. Things are not left behind for the sake of speed. The course progresses very naturally from one stage to the next.
There is never a sense of having no direction in meditation. I have a friend who is a practicing Buddhist, and he has come to the stage where he is fairly content with life. He asks himself "Why do I meditate?" because the techniques he is using don't allow him enough visions and scope to really progress – they are good techniques, and give definite results, if practiced with dedication. He thought enlightenment was too quixotic a goal, perhaps. But there are initiations on the path to enlightenment – if you know them you can mark your progress – this is very important – the heart must be set upon the highest goal, but there are many signs along the way.
You can read more about these in the Yoga Sutras of Patanjali, by Swami Satchidananda, and on the Energy Enhancement site. It's helpful and good to know these signs and understand what they mean. The first thing to do is to remove all the energy blockages in your system so that you can increase your level of energy. Now I have done this I have enough energy to clear the negativity from all my relationships, on the way to an initiation called the mastery of relationships.
Now I'm near the end of the course I feel confident I can go home and integrate all I've learnt into my life. Since I've been here I've worked through some difficult times, but I've got through them and my mood, energy and sense of well being have been given a boost rather like having an atom bomb explode in my bottom.
The removal of all the negative energy in my system has put me in touch with my own flow of untrammeled energy. Removing these negative energy blockages have yielded some brilliant results, which I was not expecting. At one point, after removing a blockage in my base chakra I experienced an extended sensation of orgasm which was totally delicious! It was just a sign that my energy flow had increased and the work I had been doing was finally complete on that particular area.
Energy Enhancement is truly an atom bomb, extremely powerful stuff. When I return to real life I will be in such a kick ass state, I want to go dancing and engage with existence! Yes! The clouds have parted!
But seriously, it is great. What more can I say? I don't want to oversell it, so I'll simply say that in the end it'll make you feel better, you'll meet two wonderful people and have a great time. My spirits have been lifted and my mind expanded since I've been here, and I have a strong feeling inside that life will simply go on getting better and better for me and for everyone I know."
ENERGY ENHANCEMENT COURSE REPORT
DOCTOR THOMAS FLUELLEN
Satchi and Devi have given so much of themselves that I do not know where to begin.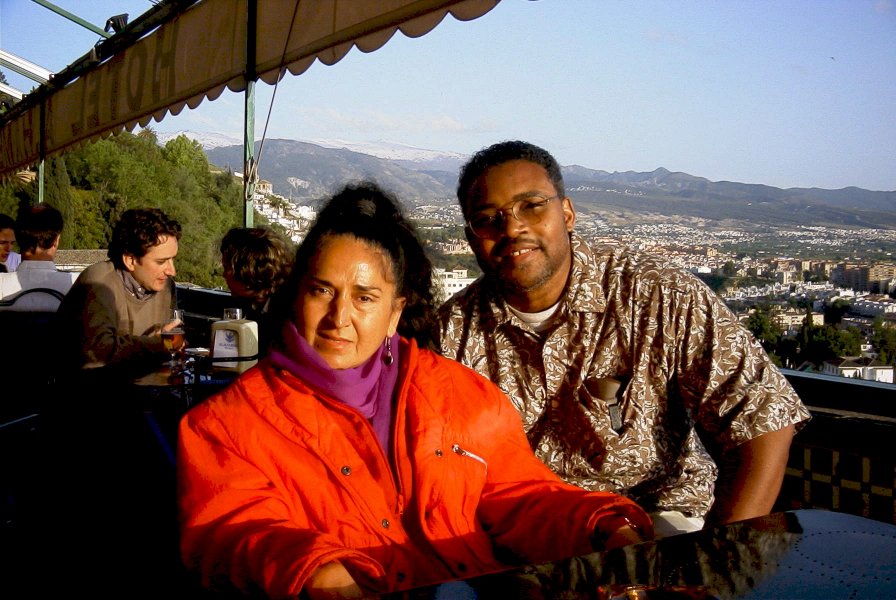 Dr Thomas Fluellen and Swami Devi Dhyani in Granada
So I have been give the necessary tools to use in my everyday life to further me on my spiritual quest. My knowledge has been greatly increased in the area of herbalism, homeopathy, acupressure, all of which are more effective with the EE techniques. I have been shown the necessary yoga positions to focus upon to combat poor posture and the healing of a past shoulder injury. At the end of the course I can even keep my knees on the floor in meditation for an hour at a time now, showing the unblocking work done on my Base chakra and its Kundalini energy, whereas when I started I would have thought this was impossible.
I have been taught to test for pesticides in my food and understand the effect they are having on my health and the environment. I have been given methods, EE Initiation 5, to eliminate toxins when they are in my system. I have also been shown how to cook healthy energising food that will improve my life.
Devi has given me Reiki l and 2 initiations, which have been beautiful experiences and I will be able to practice them with those in need.
Satchi and Devi have given so much of themselves that I do not know where to begin. Their care and love has been with me throughout the past two weeks for which I am eternally grateful. They have openly shared their special gifts and knowledge, which has filtered into my life to make it more whole, which has helped me progress on my spiritual path far quicker than I expected.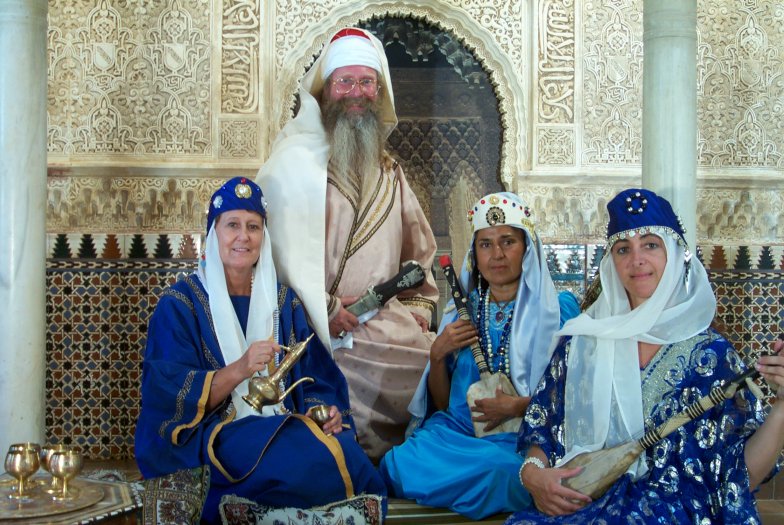 Swamis Satchidanand and Devi Dhyani at the Alhambra in Granada, Southern Spain
ENERGY ENHANCEMENT MEDITATION, HEALING, REIKI  – RYAN'S TESTIMONIAL – MAY 2012
I'm Ryan, I'm 24. Before university I experimented with meditation which i noticed heightened my senses. Then at the start of my film degree I started to explore the current 'mind body spirit' culture. At the same time I made contact with Satchi via email.
With my uni loan I tried out various complimentary therapies; indian head massage, reiki, crystal healing, sound healing, angelic reiki, violet flame, munay ki, EFT, kineseology, yoga, acupuncture, shamanism, spiritual healing etc. I also qualified in reiki and Shamballa MDH.
Over this while I exchanged emails with Sachi. I found his emails to be a fresh insight and over the few years realised how much energy is behind them.
I bought level 1 on DVD gained great energy during meditation going to a very high frequency and bathing in it's light. Now I could reach a state of ecstasy in minutes. I noticed at peak times a lot of people would call me i guess needing energy. More about that in level 3. These initiations ruffled up some blockages, the source of some problems and with just level 1 I could ground some blocks and resolve the problems. Watching the videos I felt the negative energy flowing down my legs and out my feet, like an intense reiki session. I noticed my senses were again heightened and that my distant healing was a lot better. I noticed that after having a long session of watching the videos even people with little spiritual experience noticed the difference in me. The videos would actually effect the atmosphere of the university library, sometimes annoying people with their light. At this time I couldn't stand reading through the website or watching the videos too long a length (up to 4 hours). I now realise that because the light was burning my ego (EE is ego death). I now realise the more you read the website or watch the videos the more negative karmic mass is grounded, so the more hungry and accepting you are to digest more.
On the mind body spirit scene, people i brushed shoulders with and fayres i attended, i noticed i was changing quicker than others. I noticed that this scene was more i felt an ego driven culture, who i felt mostly didn't really understand what the goal was. There's chitter chatter of ascension this, 2012 that but i never got one way from the whole, group, it seemed chaotic and misleading. Rarely did i meet genuine practitioners and teachers offering genuine treatment or content. None had earned the title guru.
I remember my first aura clearing which cleared a confidence issue, so i felt great, for only 3 days. And the problem returned with no explanation or foresight advice for it's return.
Now out of instincts, recognising the truth of EE, I bought level 2. With these initiations and techniques, i cleared this block permanently, and noticed how far the rabbit holes go. You see you're taught to find a block and chased the connections to the source block which is a troubled spirit/angel (BM), ground it and send to an angel hospital, and so creating permanent healing. I know all practitioners can greatly benefit from this course, and with heightened sense i feel this must be the one course to rule them all!
It's not just the holy grail, it's the steps to source. I'm still to complete level 2, so many blockages, and but i've transformed myself so much with daily practise. Sitting in samahdi (energising meditation) to tackle blocks in Samyama. I once used to hate my smile noticed it felt unpleasant to me and so to others, now I love it and am practising quite a lot. I used to be a nervous shy guy and worried about who i'd bump into on the street, but now have opened up and am confident in most situations.
I noticed that a lot of blocks are actually tied back to big traumatic events creating negative beliefs in family members. I found a lot of my fears originated from other people tied -attached to me. So many false beliefs are created from past life incidents. I can teach you one thing here, when you see an image in your mind, that perhaps echoes daily like a bouncing tennis ball, it's there because you need to let go of negativity from it and learn something, and not do it again. The EE techniques are perfect for this.
From just the DVD course I've had direct spiritual experience. For instance, I cleared a block using the seven step technique and had a flash of light outside my right set of ribs, accompanied with an electric shock inside them. The physical sensation felt like a the air of a popped balloon hit me or a pigeons wing flap against me.
I'm now addicted to satchi's website, videos, reading and film list. I guess i'm updating my software and often plugging into the big generator! The teaching, a lot are free, offer real insights into today's society and the influences of how it's become what it is today. The more I samahdi the stronger i am to clear the blocks which then gives me more space to bring in new energy and info to enlighten me further. This is a very accessible course, a lot of it is free! however the great pearls have equal price, i believe it's worth it.
Meditation circles are usually £5 a time, and i think it's unrealistic to expect enlightenment with them. Hercules was cleaning out the Augean stables looking at every turd, like a past life regression therapist taking you through every past life incident. With these techniques you can clear one in seconds.
If every regression is about £50 an hour, this course technically saves you money and time. Ask the teacher and attendee and they say the goal is to chill out and get closer to ascension to become an angel to become a planet of angels. This is true but you won't become such a great being from countless reiki sessions and meditation circles, only gold courses like this. I feel this and very few other courses really know what's going on and teach real techniques. This course has been created by a real guru. The title has been earnt. Hopefully reading this you're encouraged to pick up your sword and cut the chains holding you back from your inevitable destiny, enlightenment.
This course has really helped my evolution, realising i was leading a selfish life, wanting a selfish Hollywood lifestyle, most to do with what's learnt in level 3. Now I'm a stronger being or is helping the world more realistically. I'm 1 of billions of slaves now cutting my chains, embracing what comes and letting go of what leaves. I see the word urgent is used a lot in advertising, however, you must be realistic, in what other lifetimes will you have found this one course, that's so accessible right now. Next life it could be a lot more difficult to find this information. Realistically your future self will be thankful for getting started today, even just meditating 20 minutes a day. You can only enter the next life with evolutionary experience, nothing else, not material items, people, money, just experience.
It's a course for everyone in the world, builders, nurses, doctors, physicists, and especially politicans! It's been proved to double your income. My'n has increased and clients have had better results after giving reiki treatments. Drop the problems your soul's been dragging through every reincarnation now. Join the Energy Enhancement Course now!!
Love and Light,
Ryan
Here's my Blog.. http://energyenhancement333.wordpress.com/2012/05/01/limitless-movie-review/
am awaiting the site to change my picture to one I've newly added 🙂
ENERGY ENHANCEMENT STUDENT REPORT FROM R. 21 JUNE 2012
COME TO IGUAZU THIS FALL FOR YOUR ENERGY ENHANCEMENT COURSE Learn Energy Enhancement and never see the world in exactly the same way ever again. All we are offering is the truth. Take the Blue pill and you will go back to sleep but take the red pill and you will see exactly how deep the rabbit hole goes… You will gain psychic powers, you will integrate, you will be ONE, YOU WILL ENLIGHTEN. YOU WILL SEE THE TRUTH. – SATCHIDANAND
"Traditional forms of meditation are designed to fail!!"
"WE PUT IN WHAT THE OTHERS TOOK OUT!!"
I am R, I'm 24. this is my second testimony for the energy enhancement course. I have bought level 1 and 2 dvds of the course, and received more information from Satchi and Devi through their website or a reading list.
These are some more in depths insights into my course experiences and what I've learnt from the course.
Doing the EE course, is taking the first steps to realistically creating world peace on this planet, and it will have to start with you.
All the problems in the world are caused by energy blockages. Which are corrupted spirits wrapped in NKM (negative karmic mass) which comes from doing that which is against the will of God. Acupuncturists', EFT practitioners, reiki practitioners all deal with energy blockages. However to clear big problems quickly, these types of therapies may not work, most actually are designed to fail and to just keep you temporarily happy.
Energy enhancement has proved to me that it can take down the biggest blockages, which have led to the biggest problems. Clearing little blockages is not enough i.e rebuilding a man's house in Africa won't change the government. See Satchidanand's talk on this at http://bit.ly/N05fGH
I sent many emails to Satchi. He answered most if not all of them. The ones he didn't were, from looking back at the 200 word doc pages they filled, were because it was the same blockage that caused another problem. I gained much trust from Satchi, my guru, from these direct responses to my emails. From the start he's pointed out my biggest blockages.
One of my favourite parts of the energyenhancement.org pages is the movie reviews. I prefer these EE glasses. I liked seeing in Lord of the Rings for example, that Gandalf is God, Frodo is the soul, Gollum the ego, and the ring is is an Energy Blockage containing all desires the ego wants.
SATCHIDANAND SPIRITUAL MOVIE REVIEWS AND SPIRITUAL MOVIE LIST DIRECTORY
Satchi shows an enhanced view to particular films, he is the only man I know who has turned Hollywood blockbusters into block busters.
Be this summer's new block buster.
The only right thing to do on this planet is to wake up!! and encourage, enlighten and encourage to them to teach the same.
Earth is a factory for the production of enlightened beings.
You could be one of the first few to put this enlightenment factory into motion for yourself. It needs a few big pushes to get a very big ball rolling.
So we're all immortal souls, perhaps been here for 100,000 years?
we only need to reincarnate into earth if we're not enlightened. Help the osmosis process of enlightenment. Pass it on. Don't let the problems explained in level 3 (ego strategies) hold you back from learning more. They can influence choices, therefore physical actions too.
Don't let a bad knight sub personality drive your horse. We're here on a mission, to heal ourselves fully (enlightenment) and to encourage others to do the same, so that we can leave behind earth as a protected and fully functioning enlightenment factory.
Energy Enhancement Meditation is just starting off, trial period supported by ascended masters. The biggest challenge for me was opening the heart with the right knowledge. The more testimonies that come from your monad group, (the group of souls, so the whole group of people on earth, the more will touch you and your soul group, which consists of 34 partners of marriageable age for you, pick the best one) so every action has a ripple affect, spreads like holy fire. Energy Enhancement Meditation will spread like holy wild fire now the internet has open info to all, so it may be shameful to decline an invitation to this if you notice the good it does to others around you once it's more common.
Earth is an enlightenment factory in the making, but we must sort out some big spanners in the works first. It's mandatory to start with the self, to enlighten yourself completely on the situation. This course helps drop all bad energy on the planet and helps heal the twisted souls behind it enough to go heaven. Energetically changing your soul chakra, will create activity in you soul group so perhaps you may meet a special someone of them as a result of this. You may be the evolved member in your soul group.
Meditating I was buzzing like a diamond bat. Now I have more energy, my cat sleeps on my lap more. I'm a cat charger. Only at a higher level of vibration or consciousness can I see and do certain things. It would be fascinating for someone to notice the brainwave and thought speed after a few days of meditating as compared to drinking coffees.
I notice what telepathy is now. As some energy gives information, I feel that telepathy is an exchange of energy, which contains information, and is therefore an exchange of psychic information. That energy can be more obvious when it physically manifests e.g. passing by a newsstand with a fact that sinks in. So most films have got it kind of wrong but worth a shot of raising awareness of it I guess.
With Energy Enhancement, being at higher vibration lit up dark spaces in my meditative state enabling me to find energy blockage vamps or ghosts in my psychic machine.
When working on my antahkarana and finding that energy blockages when removed came back because they were supported in their state by other energy blockages – big bm's supporting little ones seeing they're vamping effect reminded me of a person down the street using your wifi or having a leak on a car engine. So that to remove one blockage you have remove its support too. Energy Enhancement Seven stepping, where you cut off all the individual blockage bm's supporting your energy blockage was like switching off the leak.
7 stepping (samyama, breaking down the energy blockage) is cool, cutting off the big bad support to a blockage which may be shown as an image for example, it usually grounds the negativity from a belief which transforms/creates epiphany into a new, more positive, better belief (mental modification), automatically, only by grounding the negate karmic mass in the belief. With Energy Enhancement Meditation I cleared a problem in seconds that a counsellor would have taken weeks to slowly drag out, and then rarely be able to change that negative belief.
Energy Enhancement changes those negative beliefs or addictions or negative desires in seconds.. Its just so fast!!
I get images when working on blockages with Energy Enhancement Meditation. It is like I am guided by a good angel through a movie. Images are doors to realisation, I learn something per image, put there by good angels. Like a videogame, being guided by good angels through relative scenerio's which you shoot/7 step and learn automatically from Energy flow where the attention goes. Satchi says we only get visions, see images when we need to learn something. I think I needed to learn a lot!!
"If you can see it you can free it, if you feel it you can heal it." "Ground what comes up" – Satchi.
I found there's a pattern to problems, there's usually a cross over of a truth and a lie, combined with a traumatic event to create the energy blockage and to keep the double thinking, confusion created by the energy blockage in place . E.g. When I was younger I was put to a wall to eat vegetables which really traumatised me at the time. So to me, the vegetables are associated with trauma (lie: veg is bad plus parent loves you). Now as an adult using energy enhancement I have the power to ground that trauma and start to eat vegetables again – a much more healthy way of being. Punishment shouldn't be given for not eating good food, what should be given is knowledge of the results if you avoid it. You know, as a parent you will always traumatise your kids, its unavoidable. This then becomes the kids problem, as it says in the bible, "unto the 9th generation". Energy Enhancement lets you take it back, forgive your parents, that poison within you, and get back to your loving, normal, enlightened state of mind. So in energy enhancement I 7stepped it and it was gone!!
Some things can linger in a family for centuries, "unto the ninth generation" the romans used to have, "family ghosts" (A blockage, block-4-ages). My fear of dogs at an early age was a blockage absorbed from my dad during the following, to my dad, traumatic incident. Quite fearless now, a dog jumped toward me and because I am liking the practise of offering unconditional love to anyone a dog jumped at me and I only noticed the bark and wind of it's jump hit my leg. To it I was 'safe' as I was offering it.love, it was jumping for birds. So in energy enhancement I 7stepped it and it was gone!!
Also my fear of deep water was there from my granddad whoose navy boat was hit by a mine. Some found it hard to get from the lower levels (deep under water) to the upper levels. Some perhaps died and he absorbed the spirit and passed it on to me. So my fear of water was coming from someone else. So in energy enhancement I 7stepped it and it was gone!!
Samahdi or meditation increases brain waves and so helps you break out of negative hypnotic thought forms. I remember a story about a happy little bird hiding in its house from the rain and boasting to a wet monkey in a tree. The monkey then gets jealous of the bird, "I suppose you think you are very good", he said. He knocks down its house. Similar to this, in a house of lads I rented a room. Down the hall was a man attending college learning about hypnosis. Everyone but me smoked there. He came out of his room and proclaimed he'd given up through hypnosis. And the other men, the monkeys then seemed to make an effort to break his will power. If he had meditated he could have had 2 things, a substitute to swap for smoking plus a routine of bathing in energy that dramatically helps willpower. On the course you're shown how to meditate in a star which vibrates on ray 1, for willpower. "Keep it secret. Keep it safe" – Gandalf
While meditating a little bad angel said "oh that must be awfully painful aren't you sure you want to come out of it?" Energy Blockages are the internal conversations which sap your willpower. Only Energy Enhancement gives you the tools to remove internal dialogue as it comes up.
At a high level of energy, I seem to notice ascended masters more. Each time I remove a vamp on my energy, I have more leftover for daily use. I from this I enhance my energy permanently. I then felt the spirit of Sai Baba coming out of no-where, this giant, fe fi fo fum! To put this and the rest of the minions in their place he gave a serious warning to this bm. **** off! So the tiny bad angel/blockage monkey went back to it's dark master. This dark master showed me to themselves as a person I'd met in day to day life. So, the light of his echo even exposed the core to this bm. So he had pointed out the soul less ******* who had nicked and held a bit of my soul. If it hadn't been for the light of meditation in my lotus I wouldn't have noticed. It shows when you focus, you can take time to listen and see things give you important realisation about the situation you're in, in this life. So much can be learnt in only half an hour of powerful energy enhancement meditation. I suppose you need to keep paying the electricity bill with meditation to see everything in your house (your soul) and put it right.
When stretching after a warm up I notice you could ease out pain from a muscle by means of the 7 step process. This pain is actually an energy blockage as sometimes it is hard to work a tense part of your body. When there is a pain there is a blockage, and blockages can be transmuted. Yoga is a clever system of stretching following a routine on the EE course, which can clear blockages that may be difficult to clear just by stretching. So this is the only tool which can ground your blockage pain fast!! while you practise yoga to get to those deep corners of the being and dust out those spiders.
I grounded some castration fears from my cat and it is now more keen for cuddles and now likes being picked up.
So far with emails, text or videos Satchi feeds only what the soul needs. E.g. when I retrieve a missing soul part, which is a rewarding experience as your energy takes a big step up. Usually I find a soul part is pinned down by a false belief (flowing against the will of God) and is pinned down by these bms. So satchi's wisdom helps me glue my soul part back to me with logic. So humpty dumpty (soul) after breaking could have used the EE techniques to put himself back together again.
For me the difference between a good angel and bad is that a good angel is one that signals a line leading to another soul part, like a videogame character collecting floating jewels in a fantasy (acceptance of the supernatural) world. Ghosts exist, so what does that make Earth? Good angels are like Tinkerbell in Peter Pan. Dark angels come out the corners of the universe, literally the dark corners of the soul, they pin down your soul part with negative beliefs, so then you help them keep it down. Once the monkey is released you heal it and take it to heaven or an angel hospital. when you do this using energy enhancement processes the belief will change from negative to positive, e.g. my inner child is adequate and deserves love. I noticed I would randomly meet people who I needed to later be shown with good angels who had my soul part, perhaps this was from a past life or perhaps I'm wrong and should not have gone out of my depth to meet people I didn't know too well. All a learning curve I guess but it's no excuse to touch evil.
I noticed the more soul parts you return – in Shamanism this is soul retrieval but in energy enhancement without the rattles. With meditation comes more power to dive into the deepest depths to find your soul.
I noticed that I would be guided to retrieving different parts of my energy back. Like going through a club and getting something back from people (in the soul group). Once I was done for that day I would go upstairs in the antahkarana to higher chakras above the head to the monad level (all the soul groups on earth).
Higher levels affect the lower, like pouring energy from above a pyramid stack of champagne glasses. The wine, the lifeforce is poured into the top and spread out to the others like a fountain.
As you're part of a web, when taking out the spiders from the web of groups in the monad and logos chakras above the head you will heal a lot of people.
The scarecrow in Wizard of Oz, represents split soul personality, the witch and her monkeys surround his soul and "some of it went over there, and others they went over there". Dorothy, the lion and tinman help retrieve it back for him. Frank Baum – the author of the Wizard of Oz – was a student of Gurdjieff.
So when people keep thinking someone's name, it's likely they're on a path to finding back their soul parts. Bad angels I find give more of a craving to see someone – that someone connected to one of my addictions and that someone always connected to the dark side. People that have a bit of are people that you may refer to, to others if you feel threatened, e.g. I know mr drug dealer. This person somehow may be holding a part of your energy, which you need to retrieve back to become whole again. There is a dark network at work here all mutually supporting the same addiction energy blockage. It goes from a blockage, to a group, to the leader of it, to the entity influencing – in charge of – the leader outside of the planet.
Spirit guides or good angels can influence you physically. Perhaps the ego and bad angels won't let you read the whole of the EE website? So too with the newsletters, each time Satchi created a new one that appeared in my inbox, I'd think "oh he's sent another email, must be everyone else," it's amazing how bad angels can steer your avatar. So now I do what Satchi says because it makes me happier and it's what my soul needs and likes. I realise he is the hand of God. Therefore I'm being taught by God through Satchi.
Energy Enhancement Meditation is also a benefit for the earth. It is raising it's energy, and we are avatars that can bring higher energies (heaven) to earth through meditation. If the earth does not have enough energy channelled to it, Gurjieff says in, "Beelzebubs Tales to his Grandson" the Earth can create earthquakes or accidents where the death of people souls will release sufficient energy to feed thr Earth' So Energy Enhancement Meditation saves lives.
Notice the internet saying, every time you m-bate God kills a kitten, well it's technically true, 1 drop of semen contains as much as a liter of blood of lifeforce energy. Meditation has been proven to decrease crime rates and therefore lower deaths in towns, so perhaps meditation feeds a hungry earth, reducing the need for death and War. This will aid your mission (your destiny), which I touch on later. The Enlightened ones, literally create energetic harmony, Buddha-field, everyone has a little energy, an aura, a student-field. Everything the person creates copies the energy e.g. the EE website when read through for a little while can push negative energy out of your leg meridians, try it. Energy Enhancement Meditation is de-light-ful.
Now I have removed a few of my Energy Blockages I have less vamps in my energy, I'm a bit like a tornado sucking up energy blockage bm's into my vortex where they're stripped of negative energy and realise their true selves again (like the king loses Wormtongue in the second LOTR film). People have started to hover near me when I walk about town. I feel honored that my aura can light a dark corner in someone's life or I get an impulse to say something to someone that I guess is an energy building up the antakarana. A vicar who I felt wanted out a dark situation needed some light, healing and information, so it happened that in the town he would walk past me or be in the same shops as me, so my student-buddhafield has seemed to have fed him that.
To keep my energy protected from vamps, I put up positive barriers. I protect myself every 5 hours. I learn this from the first 2 levels of Energy Enhancement Meditation Like Yogananda says on youtube you can sleep for 5 hours and then reinforce your protection and meditate for the rest of the time you would have been sleeping.
So the peak of ascending energy is enlightenment. So no need to body hop anymore, reach enlightenment (absolute realisation of the situation here on earth) and realise the truth and follow the truth and you'll become an ascended master, perhaps to be added to an ascended master angel card pack? Enlightenment makes you normal.
I'd get spots/pimples on the areas that I cleared energetically e.g. expression problem would result in a zit as the toxins cleared from my body. It cleared and was relieved of pain when the blockage went.
On the atral plane, organic food is light. I started eating good food and noticed good things happening, like it was manifesting good things around me, like attracts like, so then I did clearing and like the habit of getting up every day and noticing a change. So I started putting better things in me, e.g. AOS energy learnt in level 1 Energy Enhancement Meditation. Meditating in the avatar of synthesis, and higher towards God. Then a lot of changes occurred, epiphanies leading to new mental modifications/beliefs. Then added samyama from level 2. I recommend looking at films about raw food. I know 10,000 flies can't be wrong but don't eat shit, it'll kill you softly. Every action has an equal and opposite reaction. There's a consequence to everything. No-one notices gradual change. Delete the bad habits from your life. Good food consumption creates a good life span. Super size me proved that eating fast food a lot can dramatically lower your life span to just a couple of years. I noticed if my energy blocks were losing they would need more of a certain energy e.g. bad food, attracting people with negative energy
Clearing energy, my physical nature has improved, e.g. more relaxed breathing, so through energy work, my physical body has changed. Can heal physical issues quicker now e.g. numb legs in meditation, use 7 stepping (cutting off from bad energy) to release the blockage. Can help other physical pain too J My second toe nails in, used to grow loose, with this course, the energy has changed and so has my physical body, now they are almost the strongest.
I noticed a peculiar thing in meditation. Was meditating in lotus, legs went numb. Good angels reminded me of Satchi saying breathe deep, did so and had a pain in the base chakra, like piles for a couple of seconds then pain and numbing went and I could sit for longer.
Try the techniques for your self, if you do them right they'll work, believing they don't means there is a lack of knowledge.
So then gaining trust I listened to more on the emails and website. There were hundreds of emails we exchanged, he showed evidence that he spotted the big blocks from first thing. He rarely makes mistakes because he channels God purely due to no energy blockages. Satchi has always been right. His modesty commits to the bodhisattva vow, where an enlightened individual stays behind to help others. So I was technically arguing with God's servant/God, so seems a bit silly/embarrassing now, although I lack knowledge. The truth is the information that is in formation with God's will. So much good instructions on the website. I wish I took this course instead of my uni course. The knowledge and certificate from this course is by far better then any other uni course on this planet. And currently as of 2012 there's a reason it's not taught in Oxford or Cambridge. Ignorance is one of the biggest reasons to avoid or hide the truth. Some text I read on the website made me whisper 'no way' or 'I can't believe it'. The people in power need A LOT of healing. There's metals in the tap water/shower water, consume too much and you'll be an X-man. British Parliament has strictly only organic food in the restaurant. I've learnt a few secrets on this course; some famous people hide some very big secrets.
This course has taken me through a flux, it's a rollercoaster. I'm still healing my self completely, then comes understanding and eventually enlightenment. I knew when I was beating the dark energies in my body because I would become irritated, itchy and moody. It was a simple system, in with the light out with the shite as a reiki teacher taught me. You follow the will of God you will flow well, if you go against it you get blocked. So each unblocking is realising the true way. Removal of all blocks leads to all knowledge/enlightenment. The information showing God's will e.g. Yoga Sutras of Patanjali are in formation will God's will. Some things, the enlightened don't know, for example, where does God come from and where does he (or she) go to. But they know enough because they're pure enough to help you help yourself. Provide you with the techniques to remove the problem and see the truth. Know enough to give the best level of service for the on this planet, but more souls are needed to make a stronger body to fight the dark forces, the more the merrier.
The happiness you make is the happiness you take. Satchi and Devi give much love and happiness.
Gods will includes spreading his truth, but only to those who listen.
I'm pretty sure that a lot of confident spiritual teachers aren't actually that confident about what they talk about. With Christianity, Jesus said all were allowed love, then when Aristotle was put out publicly, extremes were thought about, right and wrong, good and bad. So then it pushed the idea that bad people don't deserve love. When the founder of a religion dies, so then enter the black crows. I see the word heaven in the bible as something like Atlantis. I see the word hell as something that actually relates to the centre of the earth, the philosophers stone, which can recycle negative energy (corrupt soul) into good energy (angels). So 'bad' people go to hell. The worst that can happen to a soul is that it's so corrupt it cannot reincarnate so a person, perhaps an energy enhancement student can use this soul's energy to add to their psychic body.
So Andrew Loyd webber is right, love never dies. When you tell someone something, a bit of knowledge, that energy will settle into them for eternity, on some level it is love energy.
I noticed the problems are replicating wherever you are, I had a problem with someone at university, who had a negative energy, eventually I moved back home, but as the problem became apparent into someone else. Like an agent in the matrix morphing into someone else. The same Karma /lesson will follow you wherever you are. This was also a challenge to help me learn to be more in alignment with God's will. All deserve love, some need healing to help themselves.
Same at uni, there was a succubus, who would deny she'd go around to various people, apparently she was healing. Satchi confirmed she was a vamp. I left the place and another one popped up. So the story/lessons follow you everywhere, that includes your next reincarnation. Immortal, a neverending story, fear idea of an immortal life being hell e.g. Dorian Gray, lie escape pain, you can ground that pain. You're in an eternal story, but you change avatars every so often. Like an immortal knight trying to find the kingdom of God but changing horses every 90 years.
I realised eventually all my motives were in the end to be in a situation where I would be centre of attention so I had an expectation, an ideal dream situation, which is never fulfilled and leads to pain. Attention leads to love thinks the Star Strategy which we clear in Energy Enhancement Meditation Level Three.
So I had a fear of not being loved, well this course gives you all the love you need and more.
Most people in life want to make something of themselves make a name for themselves
Like building up a sandcastle but when you need to leave, to die, the ego is passed on to someone else, usually down the family. You cannot take it with you. So think about what you can leave behind for people. Would R. the movie star who said something funny in that film, did an amazing stunt, really bring any massive special something to someone's life, was that whole life useless? Perhaps nice for R. but selfish.
The soul only leaves with love and knowledge, so some souls are born and can apply great widom instantly, from an early age.
So did you leave a lot of love and knowledge in your sand castle and did you remember to make it strong enough as the ocean of time washes over it?
The ego is a multiplayer game with multi players like a console there are many games and many players world over, don't feed them your energy, and there's no need to take theirs. Unplug from the matrix.
I used to ask satchi a lot of questions which I realised was my sub personalities the worst cover third eye so you can't see. These blind you from what can happen with this course.
When I was very young, I would play stupid to stay alive, and now I'm more in the knowing, I play stupid to stay alive.
I'm understanding the idea of selfishness and ego, for me right now it refers to the big vampire on this society, what was once as glorious as Atlantis which is now in it's/their control.
I'm fascinated how the sub personalities/ego strategies, like Gollum from LOTR or Fight Club, appear and deter you off something good or draw you towards something bad. From life to life the ego comes and goes. This may highlight that you cannot take material things with you e.g. money (which has been distributed to family, your body has now fed the bugs in the earth, your fame may not be recognised in a different body).
Many adults act childish as they're still getting energy for their sacral through games. I took scriptwriting for selfish reasons because I had the black star ego (read about strategies in Energy Enhancement Meditation Level 3), the game where I had to be centre of attention and wanted to kill others that took it. Ego strategies have found many ways to get energy from people like a man with a gun taking jewels off someone.
As a metaphor. A lady who takes water from the river to take back to her family, can be set upon by people who bring cups to take her water. So don't be the thief, find the source, the river.
Ground what you call 'my'n'. Desire/addiction or the ring in Lord of the Rings (irony with food addiction there). Are energetic, like a computer virus. All things not in the path of God. You cannot get into the kingdom of God with baggage e.g. a rich man cannot get into the kingdom, the same a camel cannot pass through the eye of a needle. A major problem on this planet is vampirism of energy.
My ego strategies blocked me trusting Satchi e.g. know it all, star, plus personal trust issues caused by abuse or other persons abuse. The ego is a separate entity thinking for itself, like a ghost, always not for your own good, it's against God's will. Satchi is ego death.
Energy Enhancement Meditation. A saint gives 100%, a businessman gives 50% and expects 50% back. If you're doing business in your personal life you're going to become disappointed. Get all you need from this course, heal yourself and then give 100% for others. Love has no debt. Love and knowledge is all you can take with you. Give love unconditionally.
Energy Enhancement Meditation, One of the most important courses on the planet, no ego, no attatchement to competition, just a course to create eternal exchange of love on this planet.
With level 3 ego strategies I noticed who my friends were and who weren't. Exposed they were actually energy vampires and me too! And most things in the world were ego strategies.
When I pointed them out my friend would come back with a different strategy. At first it was the "star" ego strategy, then it was "Poor Me".
They're all suckers for the dark side.
Had hundreds of emails between me and Satchidanand. They extended to 200 word document pages!! I collected them together to re-read and picked up some new things, my ego "put some aside for later". Many of my questions were for information that was hiding within me, hidden by a blockage, which Satchi had told me to remove. The emails answered me excellently and was all I needed. Multiple emails just chipped away at the problem he already pointed out. Over a hundred pages I eventually removed it by Energy Enhancement Meditation and I learnt something new, by instinct, or through a book or something Satchi said. All a part of trusting him and the course.
Picture this, if you were 'old and grey' nearing your end, what would you do, you would look to the next life…well realistically if you hadn't reached enlightenment and learnt to become an ascended master for the logos, due to prison like energy grid around the earth put there against the vulnerable low consciousness on the earth, you would have to just give up the ghost and float into a couple having sex and willing to conceive – usually in the same family you are in now – except for the enlightened cuckoos. So basically you have to jump to a new set of people and start life again. So all the money you had has been distributed to family, the earth and distributed your body to bugs. So you'll be in this new life with the love you had from all the centuries before and the knowledge you learnt. So there you go, all you can keep is love and knowledge. You are an immortal soul and cannot die.
What would you do if you could live forever. Some films show a bad person eventually open the heart and spread happiness and love. Did you know the happiness and love you make is the happiness and love you take see the film Happy Feet.
Writing your will, as of now is a good ego killer.
Most desires are money, sex or power, all usually selfish. Vampirsm use two common guilt and fear. E.g. I spent many hours over many months, writing notes from 12 wicca books from local libraries to learn how to get get what I wanted e.g. money/sex. But clear the base chakra, I learnt in EE, and you get enough money for what you need. Only the ego wants. If you don't feel safe perhaps due to money, clear the fear from the survival chakra, the base chakra and you'll find the root to it, perhaps in the solar plexus chakra. So if you always have what you need, why use magic to get what you want. To quote Tom Jones on the Voice 2012, fear is bad.
The difference between sanity and insanity is success. So what story has your ego made up to avoid all of these testimonies, has Satchi hypnotised everyone through newsletters, emails and videos? How can a bad heart reply to hundreds of emails over 4 years. Perhaps because it's a good course, with many good hearts behind it.
This is probably hard to swallow but this course is one of very few, the quickest if not the only way to world peace/world enlightenment, other ways are selfish/ignorant.
Rarely do I get dropped funny images for epiphanies from above. One was related to lust/sex. A master, Gurdjieff, has said, "if there were 2 things like sex, I would have never reached enlightenment."
I imagined trying to get into a house to get into a flirty friends bedroom (victim/succubus) and got stuck in the cat flap because my hips (sacral area) was too big. I was caught by her housemate (who represented God/soul). There is as good a chance of a rich man getting into the kingdom of God as would a camel passing through the eye of a needle, the humps have got to go.
I imagined ego strategies, like people walking around a maypole, split soul personality.
So I was using the star ego (writer/director) to leach off people. Then I saw Satchi's energy and of course got struck by lightning at first and just put it all aside for a tiny while. From it I realised there's a source. So all I can do is give out, expecting nothing back to avoid a painful disappointment and welcome what comes back. If I didn't know Satchi I would have inevitably naively stepped into some dark social circles if I was to play my way higher up the 'social class'. I naively followed media lies and overlooked an idea that there may be bad people working in secret and putting up a front called the media, business etc. Being famous is very dangerous.
Moving from sacral to heart, when young I noticed you're fed energy psychically by parents into the sacral chakra through two connections on either side of the umbilicus to build your energy, you can enter your adult years and still be mistaking this for love. Parents can have a child for deep selfish reasons and so are with a partner probably through psychological games. So the child is raised on these and echoes them out into their life unless they know those secrets. They're taught also to vamp. To get your own energy, the source is AOS – the chakras above the head in the center of the universe ending with God. Some parents give love a bad name.
So each time you reincarnate not reaching enlightenment, you will just float around the earth and mix back into this monad group. It's a crazy part at the moment, getting better, you can't hold a grudge and expect to die and it disappears, you'll just reincarnate back into the world where they'll still be. Like holding a grudge on someone in university dorms that you'll both never leave. Don't waste your energy.
I hope this has become a positive influence or insight into your journey.
R.
Level 3 Testimony 'R'
If you see my last 2 testimonies, you'll notice that in this one i'm a lot clearer, my echo of Satchi's teaching is purer and so like Sai Baba says, he is the tank and the students are the tap and so they must provide undisturbed pure water. Less simulacra, less disturbances with passing on the information, the goodness.
I found that after grounding a lot, due to the loss, the change and forcing new realisations you tend to laugh through epiphanies and pain. I hope this playlist can help ground negativity bit.ly/136mqjw
If you have read my previous testimonies, you may notice blockages and inner children like to disrupt my grammar and articulation. I always use this excuse with satchi, which is partly true, 'apologies but I am thick with blockages". It was difficult to write this so I presume these interuptions in my communication is to try to put me and you off the testimony. Also my lack of articulation is/was due to improper grounding of nkm and michevious inner children kicking up a lot of ideas which I could not put into place properly. Inner children have sometimes caused me to look like i'm malfunctioning when I talk. "The crazy guy that loves meditation".
For level 2 my testimony was a bit jutterred. I noticed that if you clear a lot of bm's and inner children, you'll have a lot of nkm fog left over. This can fog your head up, and for me stop me thinking clearly. I wasn't articulating my sentances properly. As well as writing/talking, you can get a lot of what would seem like bad luck from not burning off nkm enough. The energy can come out of you in sometimes undesirable ways e.g. a clang from a saucepan droppping. Around me thinks kept breaking, this was the negative energy, the negative karmic mass. Karmic because it's residue left over from actions action love. This energy manifesting in arguments and little accidents e.g. tripping up the stairs.The energy moved or grounded.
Energy Enhancement is the quickest way to break down your clay to find the gold statue underneath. You are GOLD.
It was after level 4 that I could meditate for a easier for a much longer time. In that level you deal with base cords and they are very draining. The biggest form of vamps on the planet. Clearing all of the base cords from all lifetimes my soul energy was super sized. I felt like I had taken some kundalini steroids or something. I was larger, more integrated into the one.
I sat in samahdi, in the AOS stream, for a lot longer, and didn't need to un-knot my legs to free numbing blockages as much. Meditation helps you power up to get the strength to wrestle and ground more blockages. Some inner children and blockages are tough, and it's frustrating seeing them when too tired to ground them. To get through all the events in life quicker, to fast forward your evolution, to live 20 lifetimes and much more in one lifetime, you need a lot of energy to get through it. I think Marahishi sums it up well, "to attend appointments at the market you need to keep visiting the bank". The bank, the energy from the chakras above the head, the meditation stream is infinite so it shows you what you can get through in life. This relates to this phrase "To see the world in a grain of sand and heaven in a wild flower. To hold eternity in the palm of your hand and infinity in an hour.". The point is that with meditation you can speed through 10,000 lifetimes of lessons in one lifetimes. Now because of the tip to meditate for 3 hours a day, attending the bank this often, I am now able to sit through many guru videos on youtube to collect teachings and get through the EE reading list quicker. To get through life quicker, the realisations quicker and the ultimate state of being on this planet, enlightenement.
I think this will be a nice motto for getting through the enlightenment process, meditate integrate ground. Basically, like an old teacher said, in with the light, out with the shite. Life really is this…out with the old, in with the new.
I'm currently writing this after finishing level 4, but this comment was true for 3 too, after grounding so much negative energy and bm's causing it all, sitting in lotus has become a lot more comfortable…of course samahdi stirs up the more blocks and so you go numb from time to time…but feels like i'm flying during samahdi now without any numbing/painful interuptions.
Meditating for a longer time, sitting in the beam, I can feel endrenched in love. The various rays you absorb from the above give a beautiful sense of people which rubs off on others. The youtube video "osho love is a cool breeze" describes what I feel in ecstatic long periods of meditation.
I recommend Osho's books 'Sex to superconsciousness' for those who feels sex is a problem in their life. We pull away from it because we think it's bad for us. People crave sex because in sex you experience mindlessness and is a rare experience of peace for most. So when you realise you're just craving what is essentially a unique form of meditation your craving tends to shift from sex to superconsciousness, less sex and more meditation. Connect with others like an eagle not an orc. He says, after30 mins after sex, you and the partner (I guess due to energies they must be opp sex, polar energies) reach a point where you create an electric halo. Thsi feeling is a bit of the feeling of ectasy in enlightenment. He says reaching this stage of sex you can move onto the feeling superconsciousness of enlightenment. So you kill lust doing this, you get over it. So reaching this stage of sex you see sex is the candle flame, and meditation is the sun. There's a sweet exercise to do with a partner where you observe them being still, naked, and you continue until lust dies and there's just love, merged into the oneness.
From Theos bernard's hatha yoga I learnt a variety of advanced techniques. During pranayama, alternate nostril breathing and holding the breath, I was getting those spasms you'd get as if you were drowning, so coming out of a meditative state and trying this you can see how a calm mind affects the body. Experiencing these primal urges it good to find blockages and can help you ground negative beliefs/thoughtfroms etc
I like how spirit answers a prayer really fast. I asked for help on finding more blockages, and as well as a satchi email hitting me a girl I was attatched to happily told me she'd been sleeping with a lot of guys and making the most of it lol. Thankfully this video came into my life to help me keep peaceful while I grounded my blockages.bit.ly/17Hlwxp
Osho, the blockage usher.
I'm still amazeed by the idea that swami satchidnand is, like sai baba, 'a walking point of crisis'. It's completely true, he is the culmination of all your social pressures put there to bring out your blockages. Hence sitting in the buddhafield is necessary to accelerate to enlightenment.
I found one of the most powerful things to smoke blockages out was to listen to satchi, devi or Zen master hogen sing the heart sutra. You can get plenty examples of the heart sutra being sung on the streaming level videos. Hogen hits deep and out the blockages come.
The EE reading list helped purge out blockages. Also of course it gives you the right mental modifications. With the right Energy Enhancement teacher you'll be given the best bits of information your soul requires. A particular reading set.
After level 3 I realised how important the 8 limbs of patajali are. Samahdi, samyama (which I don't think is really spoken much about in this "new age movement" surprise surprise), pranayama , yoga, etc etc). The 8 limbs of yoga.bit.ly/174a7GH
Grounding the old, integrating the new.
I also didn't realise how important clearing out the physical blockages we have in the body. Komucha is the ideal way to clean out the whole body…and you'll notice how the physical body affects the other bodies (mental, emotional, spiritual). I mix it with water and a rasberry and vanilla cordial from Asda. If you have less blockages it will taste better and you can drink more. My metabolism went electric after this and my energy was buzzing…Perhaps my body was happy. Or all 3 were hapy, body, mind and spirit.
My enlightenement process came down to this, meditate integrate ground. I drank flavoured kombucha to wash away toxins and yoga to flossed out the meridians and grounded remaining nkm. Babaji says yoga is the airplane method to God. Enlightenement is all about the body mind and spirit. It's not just meditation.
Talking about God, Osho reminds us that love is God. So love was treated like a god at first and then probably through simulation and simulacra was personified into a figure and then that figure, God, was abused and used to control and spread disinformation.bit.ly/17pi1sn
I found the level 3 videos were very good for bringing out the ego, your inner children…i thought satchi did a great job for poking at the pain so you knew where it was and how to remove it.
I used yoga like a radar to find blockages. I felt like in yoga I was able to access all of my aura, my deeper being like I was in a gyroscope to find blockages which would release a mental modification. With yoga I could find pain/resistance and that would highlight something I haven't surrended to. I think Theos Bernard's Hatha Yoga book should be renamed 84 ways to surrender to love/God.
In the Energy Enhancement Yoga Dvd, satchi does a commentary on a yoga routine and shows you which certain asanas, postures, move energy in certain areas and chakras. I agree with everything he said and became more aware of what yoga did because of this. It's a simple 2 hour routine. I now use all of Theos Bernards moves mixed with satchi's to find other blockages. One time I surrended to a certain belief using an asana that worked the base chakra and this helped find and release a thoughtfrom on giving to others because we're all part of the one, and so i'm just holding back from myself. Once I released that, instantly, defying science and all sorts I could stretch and relax deeper into the move and could almost do the splits just by surrendering a belief of the mind and spirit which instantly affects the body.
I found yoga helped fox out beliefs that were against the will of love, that were causing negative energy, negative karmic mass, which mirrored on the physical body creating tension/pain in the movements. I found that not just in yoga when my being was trying to let go of resistance to a new loving belief, I would get severe cramp. The harder and ingrained the belief the worse the cramp. Once the cramp was gone I noticed I had an updated mental modfication. Once I learnt to let go and go by the will of love there would be no tension and I could stretch deeper into the movement and into the being, closer to enlightenment.
I noticed a disapointment with Energy Enhancement at first. I had set up an expectation, an attatchment to an ideal. This attatchment like all others I learnt can only lead to pain. People attatched to money are never happy with the price. I thought with EE techniques that you'd only have to ground something once. One 7step in the right place, and that's it. I'm sure the experienced EE students will laugh here but I honestly thought you could ground "becoming enlightened" and there we go, all done. But of course there is more to it than that. I'm sure in the future there will be an even quicker route to enlightenment but these techniques work, and so we must constantly ground, and finish the job. From thousands of lifetimes, there is much to ground. Enlighenment is maintenance. The more energy you have, the vampires there are, a never-ending process.
I like grounding karma, because I was able to usher people out of my life who were around just because of karmic debt. It was quite funny, someone would enter my life, i'd think about it and then realise it was due to karmic debt, i'd clear it and then they'd find nothing to talk about in a conversation. Just shows you that we recognise souls and basically start where we left off last time we saw them. bit.ly/100IdEY
This first initiation, can save your life. If you've committed a lot of acts against the will of love/God, in a past life, then you're likely to pay the debt at some point. With Energy Enhancement Level 3 Initiation 1, you're able to ground that karma and so could save you your life.
I like what satchi writes about The Lovely Bones movie, bit.ly/XH8jAp That revenge is useless because karma exists.
Grounding karma helped me see what I or another's person in the family did in a past life, so helped me or them understand not to do it again.
Grounding karma was useful. I kept an eye on what I refer to as my karma scale in life…this was useful to see what I did that was went against the will of love and increasing my karmic debt e.g. not recycling, eating battery hen eggs etc. The various commentaries, like satchi's on the yoga sutra's of patanjali will describe the yamas and niyamas, do's don'ts. I was able to look into the karmic mass and see why it had been added to my karmic scale, and so I learnt what causes nkm. So I followed the will of love easier by keeping an eye on my karmic scale and clearing it using this Energy Enhancement technique from level 3.
When someone goes against the will of love, it creates a tense atomosphere, people fighting in a pub creates negative energy and negative karmic energy builds up. It will have to be paid off or grounded.
I learnt that grounding my karma and others if nessecesary is a true way to show forgiveness.
I understand that the lightest person, most evolved, and therefore most loving? (coincedence that evolved backward is devlove) is the scapegoat in the family. So a light soul comes in and whoosh, all the crap goes to them. This means that you might be energetically attatched to and so now may have to ground a family memeber's karma. This means you're now energetically attached to their karmic collection, and so might put you in situation to ground that negative energy. Stuff like this might create a blockage in the base chakra, a fear of the future, from something you feel is coming. So this can cure fears. Some blockages are really subtle, and this enlightenment process accelerated with Energy Enhancement techniques is quite a thriller mystery at times. Solving all these things in the family. Learning that this person did this, and this happened. I grounded a few things of my'n and naturally I ask to the above, "i wonder why that was", and then for the first time, my mother slips a huge fact about someone in the family in the past, and it clicks it all together. Every thing and one comes in at the right time, so make room.
Although this might seem mean, if you are doing this course and are therefore probably a scapecoat and quite evolved, I found, correct me if this sounds wrong, but I just came to assuming that other people were stupid. I know don't throw stuff at me. Perhaps stupidity is the quick way of saying they are thick with blockages. I say this because time and again, I had a blockage, or thoughtform (which being a scapegoat was from someone else and so became my problem) that I thought was ridiculous.
Once I fully saw it and grounded it…i felt quite frustrated it was there in the first place, though of course relieved. One thoughtform, a blockage which I thought was outdated and insane, was a racist one. So that energetically manifest through me. I noticed some deep embedded discriminant belief in life that I couldn't gel with, and that's because it was acting through a family member and through me. What i'd love to advise, is to be open to anything, because some blockages you'd laugh at being there, but can seriously affect your life. Some are so subtle because you wouldn't believe it exists. My grandads being in the war inherited to me an Aryan issue. I suppose one of the biggest issues is dying. This is felt in a lot of my family and so affects me. It can feel really frustrating sometimes when I keep feeling something but I don't understand why it's there. Probably because it's not originally my blockage, it's acting through me from someone else. Don't forget because we're part of the one, people you don't know have blockages working through you too.
Grounding all these blockages I do feel lighter on some level, probably the astral. Like the moral of the film Waking Life, grounding negativity makes us light enough to go to heaven.
I've read in Theos Bernard's book about levitation and such, i'm sure there is some scientific logic that grounding negative karmic mass can affect your physical being such a way to make you weightless.
A part of level 3 was to do with grounding emotions. From these blockages, I found I could sit through anything. It's useful because you're able to ground another persons, which is necessary if big emotions rise up in them. It's great as well because if you're upset by something, having no negative emotions means you can see the leftover disturbances in your energy to improve to become one pure energy. Hogen: When the energy is correct, there is no movement.
Another declaration that the techniques are true and the course is the survival guide for this earth journey, a family member passed during the writing of this testimony. Due to regular practice of meditation, I was at peace. So I noticed family member's emotional blockages and energy hit me. So I simply grounded them with the 7step technique and filled in the leftover space with the blue emotional ray and white light. Everything happened a lot smoother and I was able to be a rock for the whole family. My strong energy due to EE style of meditation meant I could energetically support others. I think this demonstration of discipline lured people closer to seeing the possibilities of what this course can do. Physical consequences encourages the sceptics to step outside their box.
Along the journey, I learnt a few things. On the subject of being selfish, getting energy from others.
I came to understand through Swami Satchidananda, the idea of selfless selfishness, to improve yourself for the benefit of others. Committing to Energy Enhancement one of the best examples of selfless selfishness. To reach enlightenment to then share with others is perfect. It's all part of the plan. To improve yourself for the benefit of others. Beautiful. It's a good idea to clear guilt.
Satchi told me via email my previous lives were quite intense. I agreed. Having grounded the karma and trauma there it opened up my energy to more to ground and integrate to learn from. Energy Enhancement is just constant discovery. The more Energy Enhancement you do, the more you discover. Speeding up your evolution.
So going against the will of love via disappointment of something creates a traumatic impact which splits the soul and so sub-personalities are created. These subs, the split offs are inner children who now cut off from the soul, connected to God/chakras above the head, they starve for energy and so seek it from other people. They knock at other's people' with the poor me for example, and if someone invites that into their life, they'll drain them with that strategy, that life game purely for energetic thievery. See Apocalypse Now. I'm more soul infused i feel and have less mind chatter (inner me's/enemies). bit.ly/10iedvU Learning what the life games are helps you filter friends from vampires. It's actually a bit sad to see what people are really doing to people and it's fun to hint you know how to foil their plans and see them exit your life fast.
The resistant comments they made to being healed were "ground us and you'll be lonely" and
"you'll lose power or die if you don't let us keep in control". But i feel i know better and so now i realise i must be in charge, because these inner children are psychopaths and crazy because they're not soul connected. Cut off from the genius juice.
They will create much havoc, like The Joker in the Dark Knight, without me, the righteous soul connected.
I know providing examples can help students relate to the enlightenment journey, but like Hercules and the river, you've gotta just stop looking at the little bits and clear it all in one go, and fast. bit.ly/XVKhUC
Like Gurdjieff says, 2 things like sex and I would have never become enlightened. I had trouble exiting the indulgence phase of sex. I got 'hooked (hooker) up on a succubus at a couple of points. The energy of one drop of semen is equal to one litre of blood. bit.ly/ZylTUg
So this was experience with someone using a the seducer succubus strategy to get by in life. All the symptoms the EE website and satchi described were there. And I let go. I trusted the guru, the teachings. Faith healed and improved me.
Throughout the whole journey to enlightenment, I have gone by what Tyler Durden says in Fight Club, regarding detachment, "only when you lose everything are you free to do anything".
I think attachment is something that stops people grounding the words "everything and anything". Grounding these terms are very good for clearing a lot of blockages to see the last few.
For those who are grounding very big stuff in level 2, sometimes it feels like you're grounding planets along the way, well I created something called the infinity circle. So it stretches outside the ideal of infinity and so locks in any blockage, a bit like a radar, a super white circle. I thought it highlighted blockages easier than the classic level 2 one.The circle to circle them all.
I think most people are scared to run a disappointment. I think i've concluded that most things are disappointing lol. Happiness and enlightenment is probably disappointing lol. But to continue you gotta constantly drop everything that comes into your life. As it comes let it come, as it goes let it go.
This might be controversial, so if it brings out blockages then great! But I've noticed that past students on the course, to me, haven't made very big movements in advertising EE. It still seems to be mostly Swami S's stuff on the internet. I notice some people share his articles because they're inspired by them. I understand that some souls can only go to a certain point…but I wonder if there are others who know this truth are sitting back and letting others spread this course to the future. If you're reading this you're probably part of the early few to get the Energy Enhancement movement going. I think it's best to create an environment for mass meditation, a lot of peaces to create one world peace. Just one blog could collect a lot of students. Keyboard warriors.
I notice a lot of previous students advertise other methods of meditation. I've had good experiences with the course and will share that energy with others, whether there is better out there or not. I wonder if past students are too scared of change (the only constant thing is change) and to run at disapointment, dropping the ideal and seeing what happens advertising the EE course.
To ground a blockage, I found putting it not only in a crucible but in it's own set of powertowers, following the atomic pattern of the blockage and using time slam, that finished the blockage off. I've created one set of power towers to take a blockage too if it's too much. I've called my one Bruce. The power tower to ground all.
Looking into the logic of energy enhancement it seems it does apply to this eternal now, which means it applies to everything, universal law, and everyone. It's science, it's logic. The idea of negative energy seems correct and so that must affect everyone. There are a select few who spot the course and run to it, like seeing an old friend. I think Energy Enhancement is the science of the now, let alone the future.
From integrating inner children, and becoming a bigger soul, I notice i'm able to deal with more. Being a puny soul before, I couldn't take more than a few minutes of Sai Baba. Now ive been able to meditate to this for 3 hours bit.ly/YWK1o6
Before I would fall asleep and now i'm going through many videos, like Swami Satchidananda, Osho, Sai Baba, Energy Enhancement etc etc
During the process of level 3, because of the deep healing involved…i had to laugh a lot and this helped ground nkm. Level 3 is good enough just to purchase this history of a guru laughing and joking so much. It's well worth it just for Satchi's jokes and Devi's laughs and that'll be all you need, for now, that which works.
What I've said time and again about the streaming videos is the fun that occurs on it. And this is just one of the courses. Level 1-4 is the practically the same group all the way through. In level 3 initiation 1, I laughed so hard when Devi started laughing during the heart sutra. Moments like that warm up the course. The energy spread about my house too. This laughter and fun from like-minded people is just worth the price sometimes, a classic distraction from the rat race.
Really touched by Satchi's perspective on King Kong, where kong, the ego looks upon Naomi Watts the soul, it twas beauty that killed the beast. It was the recogition of the soul, the truth, which deleted the ego…so technically the inner child views the soul and is healed and reunites, integrates.
Grounding strategies i'd shower the area in intellect enhancing mental white light and it would show up the thoughtform/logic of the strategy which was run by a little chip of a soul called the inner child. Grounding the thoughtform, the life game script or false belief. From doing that this ghost, inner child appears out of the corner of my third eye.You hear child and believe they couldn't do so much damage. And they will of course do anything to survive, but what they don't realise is they just need to return to the soul. It's the root of a big problem, with a simple solution, energy enhancement techniques.So I added the inner child to my crucible. Once I grounded this, however long it took, however much energy it took, I then integrated it into me. To me it felt I stepped into the area it was occupying and at the same time I saw the lesson learnt, and the update, the mental modification of why I was using that strategy on others, and why they were using it on me. It usually resolves with, you don't need a strategy to get energy. Just meditate.
Over many lifetimes, you've been split many times and so in this one, using the only techniques really available i've found and grounded the inner children and put them back in to me and transformed and become a bigger soul energy.
I currently feel I have integrated most of my inner children. Level 3 has been designed to fox out and inform you about most of your inner children. It can pply to everyone. EE email support can help with some understanding, the mental modifications.
I found it difficult to write this testimony. I finished the videos a long time ago. I've had time to integrate and understand the process of level 3 so my testimony is clearer, but I have noticed something in me or others has made it difficult to share this information, these experiences and understandings, a blockage? Lack of will, maybe a leftover inner child?
Inner children seem to cover up the truth. They hide areas that require energy work, that will release blockages. They'll do this for days, weeks, years, lifetimes. I or the inner children have possibly distracted me from writing this testimony for months. Constantly putting new things for me do in the way. These areas once they are clear change life, perhaps stop people taking energy from you and you from them in the same way. Life's a mirror. When you point one finger at someone, three fingers point back. bit.ly/XROXLl
It's interesting once you are aware of strategies working on you from others in the world and whole universe there are many many many latched onto you from everyone in the world. If you put up a controversial video onto youtube, you'd wake up in the morning with many strategies on you.
So with the Energy Enhancement website, I noticed that going onto it, I cleared a lot of blockages and inner children because I threw them at this website of light, and they grounded. So the website is ego and blockage death most of the time, one reason why people don't like it. So others can jump at you from the future and stop you spreading the websites energy via the articles because it increases the chances of them losing their strategy.
Integrating these inner children is like Neo absorbing Agent Smith, bit.ly/10iedvU these splits off the soul. Chips off the old block. Due to disappointment, trauma occurs and so your soul doesn't surrender with the flow and pressure bursts a chip off your soul. This bit of you is not only an inner child, but a sub personality. And this chip, will is now cut off from the soul, and it becomes hungry for energy, so to survive it uses life games/strategies to survive e.g. the critic. But these games only exist in your life because you're using it on others and they're using the same on you. Life's a mirror.
Once I grounded and integrated an inner child, of course, I was adding a bit of my soul back to the main block, so I transformed into a bigger soul and noticed I was dealing with a lot more energy.
I like moments on the course which convince me, which convert me to understand that teaching, that proclamation of fact. At first I'm just open to it, and then know it and tell others. It becomes part of my reality. So hearing about inner children, these little gremlins creating havoc independently was interesting…. standing in light, or just meditating, from the light internally or externally you can notice these inner children.
Sometimes I can describe them as evil. I was aware I was using the poor me strategy, but due to a cluster fuck of a blockage I hadn't got round to grounding and integrating everything. At work, someone hurt themselves, interestingly I pretty much instantly then out-did, out-poor me'd this person and so people were around me instead. I felt like apologizing to the person. This habit of out-doing people, is the sign of the inner child's strategy, usually seen in conversation, this is not common knowledge. This truth cannot be hidden any longer. It usually goes like this "Did you hear about…?" and then the person diverts the conversation to something 'better' than that, "yea did you hear this also happened".
So for me, I noticed these inner children were like gremlins or something.
Another example of out-doing, to show these inner children are energetic and can move over miles very quickly, constantly making sure they're the one gaining most energy, I think I happened to mention something in conversation to my mother that was quite impressive, and I noticed it shifted energy onto me, attention onto me, and then during our conversation my mum receives a text from my sister about something more impressive. I hope this shows they're intellectual and independent on making sure they're getting the bigger load of energy. They can travel miles very fast. I guess the news, twitter and facebook are now checkpoints for celebrities to make sure they're 'out-star-ing' the others. Like cats fighting over food. Vamps on blood or energy.
Example of the poor me bit.ly/Yw0gUl
As i've been more wiser about strategies and inner children…because once you've conquered a particular strategy, people tend to avoid you or get irritated around you if they're wanting to use it. I had an interesting moment with a girl at work. After clearing my karma…i coincedently received holiday for a week and in this week cleared as many inner children as possible using the level 3 videos. I removed so many in a quick amount of time, that people were not used to it. This usual exchange of energy in conversation I had with this girl who used a certain strategy no longer worked…I didn't play along any longer, unlike Frodo and Bilbo with Gollum in LOTR, because I had deleted the game from my personal existence, because I understood it and integrated it, she stood there looking into me deep for a reaction but I no longer let this vampire in. I had cleared it a few days earlier….so she looked for it in someone else and then actually changed to a different game. Now she's a bit unsure of the conversation to have with me… One thing that puts people off meditation and enlightenment is that you're now 'boring'. To be positively mindless means you have no conversation. But what your job is now is to share how to build up that heavenly love in you, that is not boring. That is the best feeling ever. That friday night feeling aint got nothing on this. Screw Alton Towers, go see Satchi.
So after connecting to the source, the almighty stream, the AOS beam, to feed the soul, I could then depend off that infinite energy instead of getting it from other people and not to be a vampire. Like relaxing that primal urge to breathe during pranayama, meditation gives you the energy your starving soul needs, and so you don't eat up other people's via the strategies e.g. poor me. Level 3 taught me the various ways a vampire comes to you, the house, and uses a strategy to gain a response, to let him into your house. The idea of not letting the vampire in. Don't accept a poor me story, dont let it into your life.
My big strategy in life which I protected 24/7 was to become a star via writing so then I could have a big influence in the media industry and perhaps politics. I'm glad I sat back and read real journalists work before diving into that. My aim was to squeeze energy out of people via films. I guess that is possibly the work of a black magician to gain energy from the masses. All that was driving me was to gain energy, and the main level 1 intitiation cured that for me, climbing the chakras above the head to the infinite source. With energy enhancement I went from a society destroying black magician to a society building white magician.
Thanks for listening.
 YUKO SATO – MEDITATION ENERGY ENHANCEMENT TESTIMONIAL FROM THE SEPTEMBER 2006 COURSE
Yuko comes from Japan and is a Professional Photographer in Shanghai and London. Before coming on the course she had not meditated before although she has been trying Yoga for a while…
Oh my god, I changed a lot!
I screamed with silence.
I was sitting in the bar around 9 p.m. by myself in Barcelona on the first night after my Energy Enhancement Course. On the way back to the hotel, I wanted to have one drink. Surrounding by local Spanish people, everybody had a good time with their own friends, even a bartender was chatting with some regular customers.
I was drinking a glass of red wine in the middle of them and felt totally relaxed without fear. I enjoyed the moment of being, by myself, in foreign county as a stranger.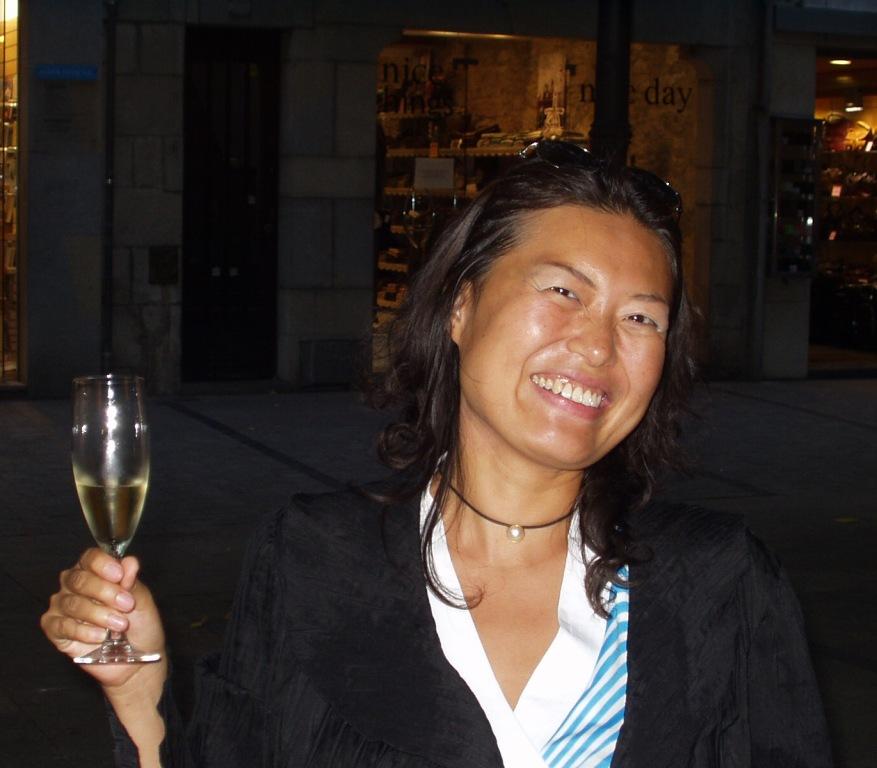 YUKO SATO TAKING A GLASS OF WINE IN GIRONA, SPAIN DURING THE ENERGY ENHANCEMENT COURSE – TAKEN BY SATCHIDANAND
If I were to be here before, I could not relax this situation, I might worry too much, for example, how they think about me? how am I look like? do I look a bit lonely? am I look OK? etc…… too many of small thoughts, however they usually are big enough to destroy having a simple good time…. 
To be honest, I have not had that feeling, "without fear…." for the whole 33 years of my life.
This is just after the two weeks of an Energy Enhancement meditation course.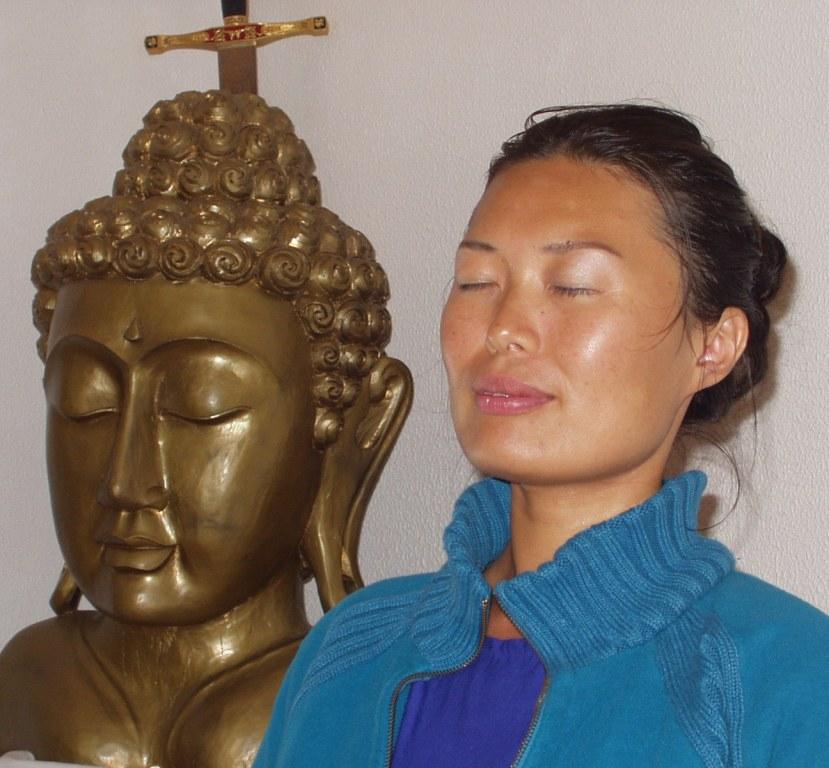 YUKO SATO TAKING MEDITATING IN THE ENERGY ENHANCEMENT CENTER IN SPAIN DURING THE ENERGY ENHANCEMENT COURSE – THE MOVING INTO THE SOUL INFUSED PERSONALITY INITIALLY ONLY HAPPENS OCCASIONALLY, BUT AS WE INTEGRATE MORE AND MORE IT BECOMES PERMANENT IN ENLIGHTENMENT – TAKEN BY SATCHIDANAND
During the course, I had many interesting and amazing experiences through meditation. I saw three black snakes, a BM with  snake hair, a black rose covered with thousands of ants, a devil who controls and sucks the energy from me and thousands of innocent people, frogs, parasite eggs…etc..
All of them were blockages and implants in my body and my chakras.
Then I removed all of them using the Energy Enhancement Techniques.
The techniques are simple and powerful, moreover effective.
I did not feel any difficulty during the course. On the contrary it is fun and enjoyable.
The meditation with Satchi and Devi is sailing with fresh wind, also they have a big map. You can not be lost.
After the EE course, I went to the Juice fasting place in Portugal.

I did it for two weeks and I felt so much energy without eating.
I went for walking in the mountains for 3 hours, 2 hours yoga practice, swimming in the sea and meditation everyday.
After my Energy Enhancement Course, I am the most energetic person in this fasting program, people who work there, they thought I am not a normal human being, because I am smiling and happy all the time.
I feel absolutely happy and full of love.
(Satchidanand – fasting is a spiritual technique used for thousands of years because as well as being good for the waistline (Wasteline) and for the health, it is also working internally to get rid of the energy blockages. Because Yuko had removed most of her energy blockages during her first two weeks of the 4 weeks Energy Enhancement Course, she did not have these problems, and was able to use the fast to find and remove more of her internal energy blockages. Usually, it is my habit to do a 28 day fast each year and there are no problems due to the previous removal of internal energy blockages; I work  as normal, just difficulties with entertaining.)
Another change, I can feel other person's fear in my 2nd chakra. So I give them love and ground their fear in centre of the earth. I understand the world better, that keeps the sky of my heart is clear and the sun is shining.
(Although we teach this during Energy Enhancement Initiations, this removal of energy blockages from others happens quite naturally once we begin to take back the power normally taken from us by our separated psychotic Deep Energy Blockages. Integration: back into the Soul Personality. Once we integrate them we get back the psychic powers they normally use to get us into trouble and destroy our lives using ego strategies – Satchidanand)
Yuko Sato
—————————-
(Yuko, due to her Japaneseness and her experiences in past lifetimes brought a colourful experience to the Energy Enhancement Course. She had great fun removing her blockages. – Satchidanand)
For meditation, I now do for at least one hour everyday, sometimes for two hours.
I find new blockages every time.
Two days ago I found the river bottom of my antahkarana and I saw a snake swimming under my antahkarana. I have done the Energy Enhancement 7 steps for them and in the 6th step I met a strong ice woman who can turn everybody and everything into ice.

Finally I grounded her.
I just drop lines of my meditation is going and I feel bright energy every time I meditate.
Thank you for meditation
Love and light
Yuko Sato
THOMAS BLAIR'S REPORT FROM THE ASHRAM OF SATHYA SAI BABA JULY 9TH 2010
I have been to see Satchi & Devi almost once a year since 2005, and I have to say, that I have never been let down. Every time they greet me at the airport I am received in an atmosphere of great warmth, positivity and generosity, into which I soon relax and know that it's safe to be me with all my "luggage". In June 2010 I recently went on a 6 week course they were holding in India.
In the weeks I spent with them it was clear that the blockages I was removing with their help, were increasing the amount of energy flowing through me during meditation. I have never been one to naturally take to meditating, but with these new experiences of Samadhi (sam – with, adhi – the light), it was certainly making it possible for me to sit for much longer periods.
I must concede, that on more than one occasion I started to object and complain about what we were doing, and the methods employed to transmute the blockages in my being. Satchi & Devi would patiently wait for me to see that the person complaining was not the real me, it was not the soul infused personality that I really am, but rather the voice of the blockages that did not want to go. There are different types of blockages, and of course, the easy ones are the first to go, but I was now experiencing some really tough ones. They can certainly be very cunning these blockages, and its thanks to the experience and energy of Satchi & Devi that I was able to continue on my way to overcome some really strong blockages.
My experiences of Samadhi: The first time I experienced anything other than a calm mind in meditation was actually the very first course I attended with Satchi & Devi in Spain. The experience of energy surging through my body was first felt in my 1st and 2nd chakras. It was like having champagne bubbling away in my lower abdomen. Before I talk about my experience here in India, I think it would be useful to describe briefly and partly a technique used to commence the flow of energy and so the entry into Samadhi. It's to do with using the mind to visualise chakras above the head and below the base chakra to infinity. For me, the concept of infinity and trying to imagine this distance above my head, kind of triggered a bypass switch in my mind, and all of a sudden my mind was quite literally replaced by a surge of electricity and light – Samadhi. 
"If the Map is Correct, Experiences Follow" – Satchidanand
This time here in India I was experiencing different levels of Samadhi. During meditation I notice the attainment of a constant flow of energy through my being which gets more and more intense, and rises further and further up my body, the higher I go up the chakras above my head to an inconceivably bright and intense sun. Quite often my breathing slows or even stops a while at the head of an in-breath as my head feels infused with light. My body feels like it is being purified, and in fact it is, as light is being shone through me. I always finish the meditation feeling more positive about my life and the world around me and a feeling that really everything is ok.
Over and above this, I receive what I would describe as bolts of light lasting between 2-5 seconds.
During these brief moments, I am no longer a body with senses or even a sense of weighing or being anything, and am unable to think.
"In the Buddhafield we find we can Move On More Quickly!" – Satchidanand
It's my experience that the body is like a resistor in an electronic circuit. The more blockages we have, the greater the resistance to the light. By removing a significant number of blockages, I have reduced the resistance of my gross and subtle body, and am now able to sit in Samadhi with ease. And of course, the more light I can sit in, the more blockages I can remove – now that's what I call spiritual progress!
Thomas Blair