Source: http://bit.ly/1wxiTNe
How to Release the Energy Blockage Knots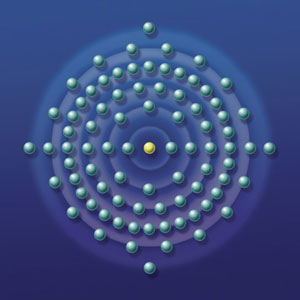 The Buddha didn't talk much about Energy Blockages. Mainly, he said just to come and sit with him, Listen to him, Imbibe the Buddhafield of his presence. Nice things would happen. People became enlightened in his Aura. 10,000 monks became enlightened in the Purple Grove. Buddha was a Master. He taught Meditation.
Yet, one day a guy came and asked him about Energy Blockages and asked him how to get rid of them. And the Buddha answered by asking Sariputra to bring him a strip of cloth and the Buddha formed in into a knot. He asked the guy how to unpick the knot, to make the cloth straight and pure again, and the guy said, "Well he would have to study the knot in order to do this", and the Buddha said yes, " Indeed this is the way of removing energy blockages. Like knots you have to study them in order to know how to release them".
Yet Alexander the Great had the same problem. That of the Gordian Knot.
I heard of this problem when I was a child and even then I had this inner sense of what is important. It is called Intuition. And it is felt as an energy which makes some things more energetic, more important than others. Really useful so that we do not waste our time. We know which books to read. Which movies to watch. Which music to listen to. We ignore that which is not connected to God, which is less, which is not worth our time.
Well, you see, Alexander was attacking this city of Gordia. And he was going to take it but his Generals said, as Generals do, that to take this town would involve the deaths of 10,000 of his soldiers, six months of time, and much work and supplies – Materiel I think they call it now – for this city was well defended and sturdy.
And the leaders of the town knew this too. and they knew that if they could do the deal all would be well. So they went to Alexander and said that they could surrender if he would promise to not kill and rape all the inhabitants as is normal after any seige, – they do it to make people surrender in advance! – and this would save him the time and the soldiers and the materiel.
As well as that they were having political problems with the Priests who knew that the coming of Alexander to the city meant the death of their religion and the institution of the State religion so they added the condition that he also had to unpick the Gordian knot before the city would be released unto him. But really, they knew they could do the deal to be in charge of the State Religion by giving Alexander the methodology of solving the Gordian Knot in advance.
The Gordian knot was a puzzle given to incipient priests before they could become leader priests within the temple, as a final test. So this Gordian Knot was a religious examination. Religious!!
Just like what Buddha was talking about above. The examination was about the unpicking of Energy Blockages!!
And Alexander had to solve it. He would lose the loot, but he would gain time and energy to conquer more land.
So he accepted the test and gave his promises and on the appointed day went into the Temple to take the examination.
They showed him this enormous knot, made from meters of rope which they expected him to study for days before finally succeeding – or failing – to unravel the situation.
But Alexander was made of sterner stuff. He had a technique to solve the Blockage Problem which was much in advance of that which the Buddha released in the problem above.
He took out his Vorpal Sword and with one amazing swipe..
He Cut the Gordian knot in Two!!!
WRITTEN BY SWAMI SATCHIDANAND
Manjushri with his sword of discrimination – looks like the Buddha also knew how to solve the Gordian Knot – and this technique to remove energy blockages has been removed from Buddhism!!
FIND ALL THE INCREDIBLE TECHNIQUES REMOVED FROM TRADITIONAL MEDITATIONS – DESIGNED TO FAIL – AND TAUGHT IN ENERGY ENHANCEMENT
Just like Energy Enhancement Ancient Successful Energy Blockage Busting Techniques!! From 10,000 years of Spiritual Technology!!
We know how to remove Energy Blockages!!
With the Sword of Discrimination, it becomes Easy!
TO CREATE THE PSYCHIC POWER OF PSYCHIC VISION, THE ABILITY TO DESTROY EVIL ENERGY BLOCKAGES AND CREATE THE PSYCHIC POWERS OF GOODNESS AND MERCY WITHIN YOURSELF..