From: http://bit.ly/10sg7Ku
THE KNIGHT OF WANDS OF THE THOTH TAROT
THE FIRE OF ALL FIRE: – FIERY ENERGY
DYNAMIC ACTION, INSIGHT, CHANGES.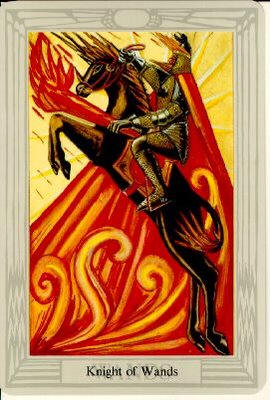 The Knight of Wands is the mastery of growth and inner development.
In his left hand he holds the burning torch with which he burns all the negativity in his path. He has assumed the task of eliminating all the obstacles to his growth.
His cape is a fiery material which is continuously burning all inner negativity collected over many lifetimes.
The horse has the unicorns horn which symbolises the open third eye, the one eye, "When your eye is one" the One Eye of Woden, or Odin which symbolises the ability to see on the psychic plane all the negativity inside people, all the energy blockages, all that which needs to be grounded.
Curdie of "Curdie and the Goblin", a children´s Book, had Curdie with the ability to shake hands with people and feel which animal they were. Which people were animals and which people were human. Psychic Vision gives you that!
For Psychic Vision you need to power up your chakras by connecting with the Soul Chakra and entering into the Buddhafield of Energy Enhancement. It usually takes three days!
Energy derived from Enhanced Perception is continuously put into action in the outer world. Even difficult situations are dissolved.
The Knights armour is made from reptile skin – a sign of change and regeneration as the snake will change its skin on every growth cycle. As you get bigger and more talented, you will need a bigger skin, psychic body. When the skin restricts, that is the time to change your skin.
It is now possible to leave behind old and restricting ways and risk a MIGHTY leap forwards!!
NOW IS THE TIME TO PAY ATTENTION AND BE OPEN TO PEOPLE OR SITUATIONS WHICH CAN BRING ABOUT MASSIVE DYNAMIC CHANGES IN YOUR CONSCIOUSNESS!!
DOES YOUR PRESENT SITUATION ALLOW YOU TO COMPLETELY DEVELOP YOUR ENERGY?
IF NOT, WHAT IS STANDING IN YOUR WAY?
EMAIL sol@energyenhancement.org
GET EXPERIENCES OF MEDITATION ONLY AVAILABLE WITH 20 YEARS OF PRACTISE WITHIN ONLY TWO WEEKS ON THE ENERGY ENHANCEMENT COURSE