THE GURU SHISHYA RELATIONSHIP
FROM THE STREAMING VIDEO COURSE – SATCHIDANANDS REPLY TO A STUDENT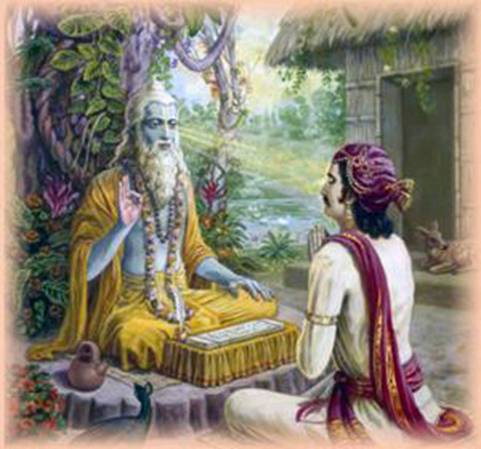 I've been thinking about your email almost constantly since I read it. I would like to help you in any way I can. I can sense your feeling of urgency to bring this wealth of knowledge to more and more people as soon as possible. It IS the answer; it IS the key and it is therefore no wonder that there are challenges in doing so. And though I am nowhere near enlightened, I do understand fiery energy firsthand and how it can become almost a practice learning how to temper that inner fire around other people. Of course I am required to temper my energy; you are not because you are enlightened and in the flow of the Dharma by burning others' blocks. I'm just saying that yes, I can imagine. . .
The email about Buddhism today was magnificent. As to the EE story and presentation, I would like to be candid with you and offer the following opinions not in any way as a criticism but simply as one perspective which may be worth considering and may not.
Normally I would not spend any time reading a website such as yours because it is quite "loud" with all the huge fonts and red and highlighted passages, and it seems to go on and on endlessly. It's almost funny to me because even though at first I was repelled by the layout, I couldn't stop reading. My soul was getting the energy of it all and I was attracted, entranced, hungry for more and totally overjoyed. (So maybe everything I'm about to say has no value whatsoever because it transmitted to me so what am I talking about?)
Anyway, my viewpoint, being out here in the trenches, is that the path is hard enough and some of us have evolved to the point of being serious about getting on with it so therefore the time is past for all the sub rosa, occult, trek through the Himalayas for decades to search for the disappearing Babaji, even if it is an "open secret." Meaning, your website and emails seem so overwhelming that it's almost like you want to push away potential students as opposed to finding them and quickening them. The mind has a tendency to zone out when there is so much information, and when it starts repeating paragraphs (even with the same photos) in the same email, then the mind numbs out totally. Perhaps this is a high cosmic mechanism of some sort but it is beyond my understanding.
My point is that even if you outline everything for your students and tell them exactly what they need to do, still VERY few of them are going to stick it out and go all the way to enlightenment because it takes effort and most people are lazy. So, your website and your emails could be much more user friendly and clear and you wouldn't have to worry that you were giving away too much—people can only get what they can get, and making it easier for them to get to the crucial point of decision seems like the most compassionate way to go, in my opinion.
I'm sure you're familiar with the nauseatingly formulaic web-based business format for websites these days. Lots of text, very plain, photos galore, apparently they've all taken at least one NLP seminar, on and on—and they're always selling something, but at a discount! And with thousands of dollars' worth of free bonuses if you act now!! Well, I must admit I got a similar initial feeling for your website but something deep inside of me was so drawn in that I stuck it out. Well, lucky me. Perhaps there are other serious students out there who aren't so lucky or whose energy blockages are raging or some other such thing and they might not have gotten through.
There is one thing that may be a detriment in your website, emails and even books. People normally expect to get information, knowledge, instruction, etc., from the printed word. We study from books. So there is a bit of a letdown when over and over again the reader reads that EE techniques fix this, come to a live course, buy the DVDs, etc., embroidered within the beautiful teachings and stories and comparative analysis. Kind of the used car salesman analogy.
1. Would it be possible to state clearly up front that the best way to accelerate one's enlightenment is by being present with a Living Master, within his Buddhafield, and information on how to do that can be found by coming on a live Energy Enhancement Course in Brazil, Spain, India.. Wherever you are at the time…
LIVE ENERGY ENHANCEMENT COURSES COMING NOW!!
THAILAND!!
INDIA
IGUAZU
GROUND NEGATIVE ENERGIES AND ELIMINATE ENERGY BLOCKAGES – COME ON A LIVE COURSE GET THE STREAMING VIDEOS – NOW!!
EMAIL sol@energyenhancement.org
2. Second best is to participate in the DVD course and/or streaming videos, and information on how to do that can be found here [link]
BUY THE HOME STUDY COURSE 
WITH STREAMING VIDEO, BUY ONE INITIATION AT A TIME – FROM 100 GBP PER INITIATION OR SPECIAL OFFER!!
– 250GBP FOR 4 INITIATIONS AND – 600GBP PER LEVEL 1, 2, 3, OR 4!! –
CLICK HERE!! BARGAIN!!
http://www.energyenhancement.org/Energy-Enhancement-Courses/HomeStudyMeditationCourse.htm
3. In the Energy Enhancement Website pages I will provide you with background information, analysis, stories, knowledge and all the intellectual fodder you need to decide if you are now ready and willing to get to the core of the matter, the Core of Mater, the heart of Mother Earth. The only thing stopping you is you in the form of your energy blockages, and everyone has them. If you sense the urgency, if you have the courage, then please read on…
This way you could make your books pure wisdom teachings, all with the magnetic invitation to come be with you and Devi on a live retreat. But only tell the reader once; give him/her credit that they'll get it if they're meant to get it. You could release almost everything in book form but make it clear that true success will only come with the transmission from the Living Master. Just like you received from your Masters and Teachers directly.
I know the key is the removal of energy blockages and no one else is offering this with any real success. There are those offering japa and fire ceremonies and saying have faith and patience, "just believe"—but no one that I know of is hitting the nail on the head like you are. It's HUGE! It needs to get out to thousands of people now! This is what many good people are looking for even if they don't know it just yet.
I sincerely hope I have not offended you because it would break my heart if I did that. I believe in you and want to see you succeed. It's so hard with all the energy blockages at play and people with their money issues and all that. There must be a way to get this to people to help them and also support you and Devi fully. I will pray about this.
As for me, I'm trying so hard to be all vairagya and stitha prajna but I can't help but wish I could hop a plane to Thailand and say, Let's get to work! I want to clear my blocks so I can be of service. It's all I want. I suppose karma and time will tell. I do revere the Will of God and my favorite Jesus mantra has always been, Nevertheless, not my will but Thine be done. So we shall see what we shall see.
Satchi's Reply.. The only reply to the sound of one hand clapping and the Hossu striking, and this is not intellectual, is to have sufficient evolutionary forgiveness to turn the other cheek.
The Evolution of people is towards goodness. But some people are not sufficiently good for them to be able to take a genuine path. People are made up of a Council of Dark Angels and White Angels and they are always voting.
Really, there is no reason to answer and give all of the above spoon feeding.
The essential thing I can tell you is that people are not stupid.
In alignment with Sosan,  the Third Zen Patriarch I can say with full knowledge, "They Know!"
And if they say they do not know it is because their dark energy blockages are too great for them at this time.
That in this lifetime they themselves are allowing the Energy Blockages to win because they themselves are complicit with them and the dark Forces which control them..
Their Blockages have already prompted them to make their decision. They have already made their decision – Like Neo – and by complaining about anything – They are not taking the cookie from the Oracle this time.
Remember, "One Complaint and Heaven and Earth are set Infinitely apart" – Sosan – From "Hsin Hsin Ming: The Book of Nothing" – The Enlightened Mind of Sosan, which can be found by anyone in touch with their Soul, On this site..
OSHO BOOK: ZEN – SOSAN: HSIN HSIN MING: THE BOOK OF NOTHING
Talks on the Faith Mind of Sosan, Talks given from 21/10/74 am to 30/10/74 am, English Discourse series, 10 Chapters, Year Published : 1983.
Introduction : "Sosan was a man of power, a man who has come to know. And when he says something, he carries something of the unknown into the world of the known. With him enters the divine, a ray of light into the darkness of your mind." Osho These are not just commentaries on the teachings of an ancient Zen master. Here is an alive, contemporary Zen master at work – and as the meaning of Sosan's teachings are unraveled, so are the habitual patterns and prejudices of the reader's mind. Furthermore, Osho's work is so subtle and delicate, the surgery is performed almost before you know it. As you turn the last page, you may suddenly realize that you'll never be quite so captivated by your own inner chatter – and without any effort you've taken the first, vital step towards meditation.
The above is another Open Secret.
There are many paths and the most popular are those which can not work. And the people know this. And that is why they choose these paths.
Christianity, Buddhism, Zen, Sufism – all the current religions as they currently are are popular because they can not work other than as a foundation for the people who choose them.
But for those who seek the true path, the path which works, the path which will lead them to Enlightenment, Illumination, Integration, Atman, – They know that only The One who has successfully walked the path can really bring them to that which they seek.
People are searching all over the planet for a Genuine Master, but me, I have been searching all my life for a Genuine Student.
And it is in their choice of Master that the Evolutionary Heart of the Student is known.
And the answer to those who cannot, do not want, to pay is to work and to help..
To know that if Energy Enhancement is important to them, in time they will acquire the necessary funds.
Love and Light,
Satchidanand